Well, I finally got decent pictures of the funny thing I wanted to show you, which I mentioned in a previous post about Lomography, as well as my most recent post.

I found this thing before I moved to Tallahassee, one of the times I came up here to visit Tanya. I got terribly lost trying to find her place (I believe I had only been to her house once before at the time), and I was becoming very frustrated. Then I happened to stop at an intersection, and I looked up at the street sign. And I was so amused by what I saw there, that it caused my tension to dissipate. What's more, it happened to be a fairly large road running across the northwest corner of town, and when I consulted my map, I found it an easy landmark to help me find my way back to where I was supposed to be. So, I owe a debt of gratitude to this road.

I had to find a small, quiet intersection to get a good picture. I thought one of the larger signs at an intersection with a traffic light would have been nicer, but getting a good picture of one of those without risking the safety of myself or others proved to be too difficult. I am sorry to say I did attempt to take one picture while actually driving. I wasn't going to "aim", really, as I know that it would have been incredibly stupid to hold a camera in front of my face instead of watching the road. I was just going to sort of hold up the camera at approximately the right angle and shoot as I went by. Well, in doing so, I unfortunately distracted myself to the point of misjudging the angle of the left turn I was making at the same time, and I nearly ran into the curb. I had to stop and put my car in reverse to readjust while the college-age folks in another car that was stopped at the intersection literally pointed and laughed. *sigh* Is it any wonder that I confessed to Tanya a week or so ago that I lack common sense? Naturally, that picture did not turn out very well, and I promise to just say no to Lomo-ing and driving in the future.

Of course, this picture I am about to show you isn't really Lomography, since it was much too planned. It's just something that I felt the need to share.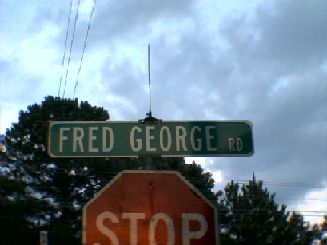 Also, in light of the recent fandom snafu, I've been thinking about some Scripture that I would like to share as well. The first is a passage I have mentioned on this LJ before, but I think it bears repeating.


Romans 12:9-21

Love must be sincere. Hate what is evil; cling to what is good. Be devoted to one another in brotherly love. Honor one another above yourselves. Never be lacking in zeal, but keep your spiritual fervor, serving the Lord. Be joyful in hope, patient in affliction, faithful in prayer. Share with God's people who are in need. Practice hospitality.

Bless those who persecute you; bless and do not curse. Rejoice with those who rejoice; mourn with those who mourn. Live in harmony with one another. Do not be proud, but be willing to associate with people of low position. Do not be conceited.

Do not repay anyone evil for evil. Be careful to do what is right in the eyes of everybody. If it is possible, as far as it depends on you, live at peace with everyone. Do not take revenge, my friends, but leave room for God's wrath, for it is written: "It is mine to avenge; I will repay," says the Lord. On the contrary:
"If your enemy is hungry, feed him;
If he is thirsty, give him something to drink.
In doing this, you will heap burning coals on his head."
Do not be overcome by evil, but overcome evil with good.


And James 1:19-20

My dear brothers, take note of this: Everyone should be quick to listen, slow to speak and slow to become angry, for man's anger does not bring about the righteous life that God desires.

Last, I'm still pondering the upcoming election and various political issues obsessively carefully right now. I am still not sold on either candidate. I think that this article by Nat Hentoff has brought into focus precisely what my dilemma is. I could easily overlook differences with a candidate on H-1B visas or vouchers. What I am getting hung up on are the areas in which I see each candidate failing to adhere to the "consistent ethic of life" of which Hentoff writes. How can I vote for a candidate who is likely to veto laws protecting the lives of the pre-born, and who would appoint federal judges who won't uphold their Constitutional rights to life, liberty, and the pursuit of happiness? But then, how can I vote for a candidate whose cavalier approach to military conflict unnecessarily endangers the lives of many human beings, both pre-born and already-born?

*sigh*

Well, I still have three months to decide…

Joie

ETA: The website for Consistent Life, formerly known as The Seamless Garment Network: All of life from conception until natural death is a seamless garment.

An excerpt from their mission statement:

Fundamentally each and every human being is unique and important. No person is defined by someone else's choices. No one exists as a means to someone else's happiness, therefore all choices we make, as individuals and as a society, must be weighed in light of their impact on human life and dignity.

The right to life is an inalienable one, as life is sacred. If human life is sacred, then it must be protected. Human life is not more sacred at one point than another. People of one race or nation are not more sacred than others. The lives of the rich are not more sacred than those of the poor. All people have an equal right to life.

This must be reflected in our constitution, our attitudes, and our practices in every field. It translates into a coherent social policy which seeks to protect the rights of the weakest and most vulnerable in our society, the unborn, the infirm, the refugee, the homeless, and the poor.

Found here.