*happy sigh* I wasn't even looking forward to this birthday. With my teens and my early twenties now behind me, I am starting to drag my heels about the idea of being another year older. But it's good to have an excuse to celebrate. My sis-in-law's (Vanessa, aka
nessabutterfly) birthday is today, and since our birthdays are so close, the last two years we have been celebrating in tandem. This year's dual celebration turned out to be really fun.

My birthday got off to a good start. The teacher I work most closely with at school brought a chocolate chip cookie cake and had all the kids sing to me before they were dismissed for their afternoon P.E. class. Better yet, my students behaved themselves better than usual all day. :D

After work, I was off for a very busy, but fun, weekend. I opened a birthday card from
springdove as soon as I got home, then quickly changed in to my dancing shoes. My brother picked me up and took me to meet Vanessa and a group of friends for dinner at a 50s-style diner. After that, we went swing dancing. Vanessa and I got to do the birthday dance, which is when they put you in the middle of the floor for one song, and different guys keep cutting in to dance with you. I'm a pretty mediocre dancer, and I was a little tired that night, so some of my dances turned out a bit awkward—but over all, I still had fun.

That night, I spent the night at Mark and Vanessa's new apartment. First we had birthday cake with a few friends. Then, Vanessa and I finished working on our costumes for the next day (you'll see) while watching the anime show Fruits Basket. We were up until about 3 AM. Heh.

The next morning we went to MegaCon, a convention focused mainly on sci-fi/fantasy, comic books, and anime/manga. So. Much. Fun. For me, the main attraction was the anime/manga aspect of the convention, particularly the merchandise and the cosplay. (In case you don't know that term: cosplay = "costume play", or dressing up as characters from anime/manga/video games—or anything, really).

I really, really got a kick out of the cosplay. There were so many cool costumes, and it was neat to see the creative things people did, and to get a chance to chat with them and admire their costumes. I cosplayed as Sango from Inuyasha (see pic below--I did her traveling kimono, though it seems people who dress as Sango usually do her battle gear), and it was really fun to have people call out, "Hey, Sango" to me and ask to take my picture. I had fun locating other people at the convention dressed as Inuyasha characters and asking them to pose for pics with me. A guy dressed as Miroku (the character with whom Sango has a bickering proto-romance with) posed for one picture with me, and then offered to do a "lecherous" pose with me as well (Miroku is a very lustful character, and is always trying to grab Sango's rear, usually getting slapped, elbowed, or at least yelled at as a result), but he didn't press it when Vanessa, who was taking the pic, declined on my behalf. I was actually pretty amused by the offer.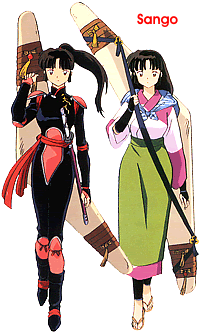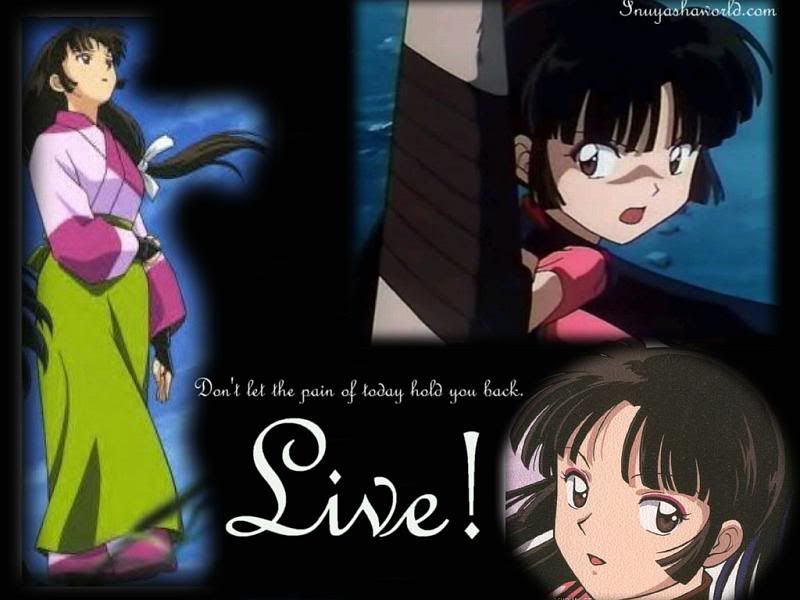 I should add here that my late-night costume preparations before the con consisted of allowing Vanessa to cut me some bangs and faux-sideburns to match Sango's hairstyle. A bit extreme, I know, to cut my hair for cosplaying, but I'm actually really pleased with the result. It's been years since I've had bangs, and now that I've got them again, I have no idea why I didn't cut them sooner. I look really good with bangs, if I do say so myself. ;) Anyway, if you want to see a pic of me in my Sango get up, Vanessa has posted the one of me with Miroku in her LJ here. Please ignore the one of her fixing my hair, as the lighting in that one makes me look awful. Just scroll on by to the one with Miroku, plz. I'll post more pics from the weekend in a later post. BTW, I did 95% of the sewing of that costume myself. It was pretty simple, but I hadn't sewn anything since home ec class in middle school, so it was a big accomplishment for me. Vanessa, who also made her own costume, is an expert seamstress, and she helped me design the costume and figure out what the heck I was doing with the sewing machine. <333

As you may have seen in her LJ entry, Vanessa did a gorgeous costume of Neo Queen Serenity (sp?), one of Sailor Moon's many incarnations. She got an extraordinary amount of attention and requests for pictures, and she even got a runner-up award in the costume contest. She was really happy because she got to meet so many people and make quite a few new friends due to her very conspicuous costume.

I also enjoyed the dealer's room. Personally, though I made up my mind not to spend much money (I made a rule beforehand that I could only buy my one favorite item of less than $20, and a birthday gift for Vanessa), I thought it was fun just "window shopping" and seeing all the crazy merchandise that is out there. I bought a Fruits Basket T-Shirt for myself, and a DN Angel CD for Vanessa. Mark and Vanessa bought me a plushie of Kyo (my favorite Fruits Basket character), to go with another one I had received the day before (now I have one of him in his cat form, and one in his human form with a cat hood). Another friend bought me a little chibi Inuyasha figurine. In addition, one of my friends had given me a Sango keychain (in the traveling kimono, like my costume) and Sailor Moon chopsticks the day before, so I ended up with a lot of anime merchandise this weekend despite my resolution not to spend too much. :D

ETA: I wanted to add that I regret that I didn't get a chance to line up to get an autograph from John Schneider (Mr. Kent on Smallville, and one of the Dukes of Hazard). He was one of the celebrity guests at the convention, and I really like him. I think Marcus Flint from the HP movies was there, too, as well Darla from Buffy and Angel and Deanna Troi (sp?) from ST:TNG. I didn't really pay much attention to the guests, other than a few wistful glances over to that section of the dealer room, wishing I could at least get a glimpse of Schneider (I never did). Mark got the autograph of one of the main voice actors from Ren and Stimpy for his friend
dtmoney. [/edit]

ETA 2: I was just looking at the program and saw that Chris Rankin was supposed to have been there, too. O_O I wonder if he really was there, though--he might have had to cancel like he did for the other con in January due to filming for OotP. [/edit]

The best part was the company, though. Some of you who have been on my flist a long time will remember that I once didn't have many local friends here in Orlando. Well, that has begun to change. Last November or so, I got assigned to sing on the same rotation as a girl named Christie in my praise team at church, and we instantly hit it off, mainly because we share an obsessive interest in fantasy, anime, Star Wars, Harry Potter, etc., and—more importantly—we seem to like those things for some of the same reasons (not to mention our shared interest in music and theatre, and our shared religious beliefs). Anyway, last month she invited me to a Chinese New Year's party at her house where we had Chinese food and watched lots of anime, and I got to meet several of her friends. I've seen them a few times since then, and now they are becoming my friends, too. Anyway, Christie herself wasn't able to come to the con on Saturday (she went on Sunday), but I spent a large part of the day with friends that I made because of her, and it was really fun.

I also enjoyed talking to the other cosplayers, especially some teenage girls dressed as fellow Inuyasha characters. The teens I met at the con were really sweet, and chatting with these delightfully geeky, anime-obsessed teenagers just filled me with a warm feeling of nostalgia for my own geeky teen years. *sigh*

Saturday ended with a very late dinner at Doc Chey's Asian Kitchen, which was really, really delicious—by far one of the best Asian restaurants I've been to.

Sunday, Christie and I had our turn to sing for church services, and in between the two services, we got to chat about anime and such. I also got several compliments on my new hair do from friends at church. After church, I did all the work I had put off all weekend (writing curriculum and cleaning my room) and got caught up on LJ. I enjoyed reading all of your birthday greetings. :)

All right, for months now I've been meaning to put up a poll like the one
chicagoamy did a while back, to find out who on my flist shares an interest in the same TV shows that I like, and my current desire to find other Fruits Basket fans has prompted me to do it now, even though this post is already ridiculously ginormous. Please fill this poll out!






*This is only a selection of the shows I liked as a kid. There were so many, I had to pick just the ones that I was really obsessed with, or the ones that were especially unusual (because I want to see if anyone else even remembers them). In some cases, I know I liked a show, because my family remembers me watching it, and I know I had paraphernalia that reflected an interest in it, but I don't actually remember watching the show very much; I chose not to list the shows I don't remember fairly distinctly.

ETA:I just realized I forgot a few old favorites: Early Edition and Sliders. If you watched either or both of those shows, please let me know in the comments. Thanks. [/edit]


Thanks for reading. Due to the million and one things going on in my life, I was offline for about 5 days in a row. I was having fun, but I did miss you guys. *hugs flist*

Joie