Gacked from
connielane...



You scored 96 PB knowledge!

Your results will give you a percentage score rating your knowledge of The Princess Bride.
My test tracked 1 variable How you compared to other people your age and gender:
| | |
| --- | --- |
| | You scored higher than 99% on PB knowledge |



And some pictures of yet another anime convention. There're a few of me in a different costume, this time of Kagura from Fruits Basket. That costume was made be the mother of one of my friends, who wore the same costume on Sunday, when I was in my Sango get up.


Friday night, we didn't cosplay. Vanessa and I both wore Fruits Basket T-shirts.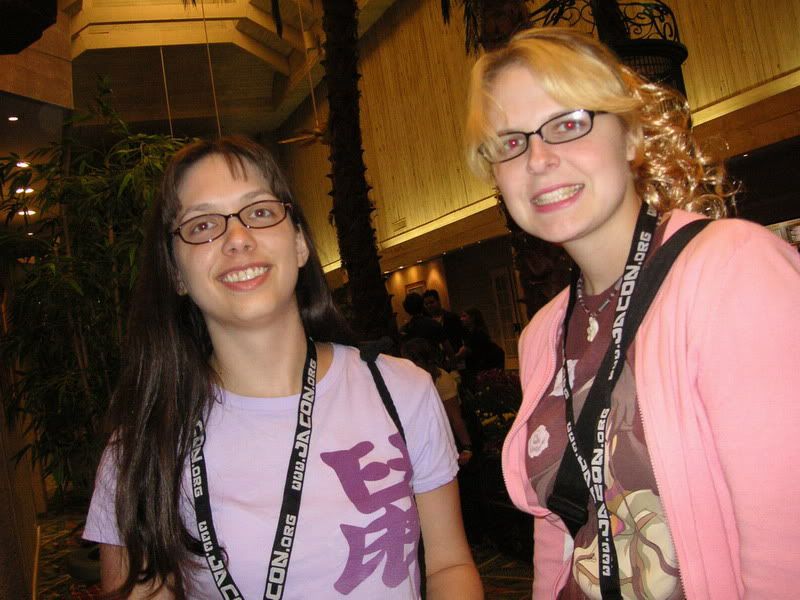 While waiting in line to get into the Animusical (people dressed as anime characters, dancing and lip-synching to popular movie and musical theatre songs), some people in front of us were smoking, so I tried to block the smoke with my program. Mark thought it was funny.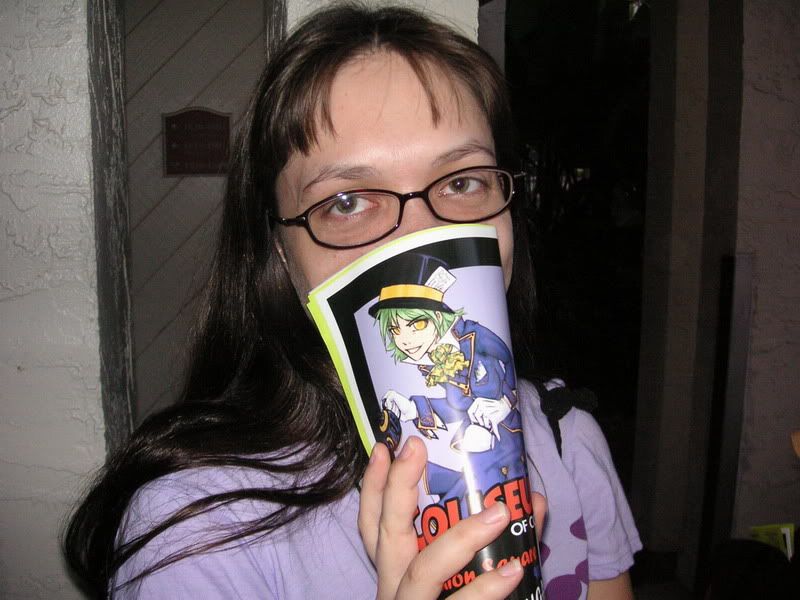 Saturday, I dressed as Kagura, and most of the people I hung out with were also Fruits Basket characters. Left to right we have Anna as Shigure, Christie as Ayame, Katrina as Akito, Janet as Hatori, and me as Kagura.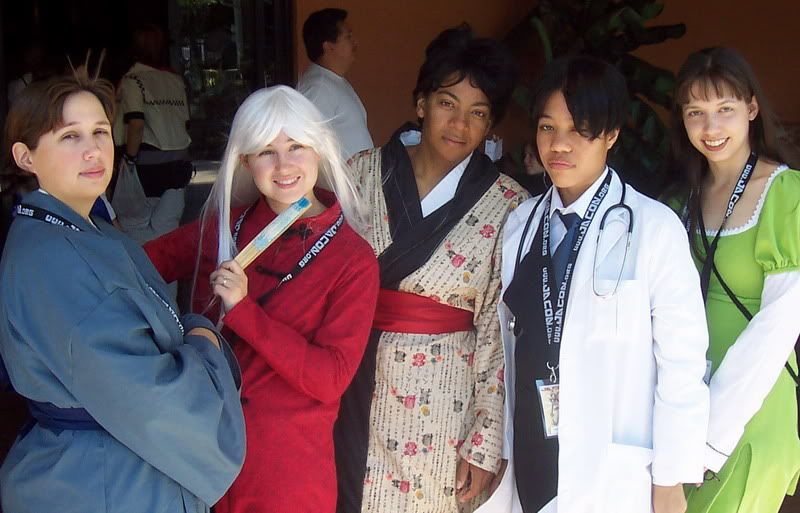 Vanessa wore her Neo Queen Serenity costume again, and Mark accompanied her as Tuxedo Mask.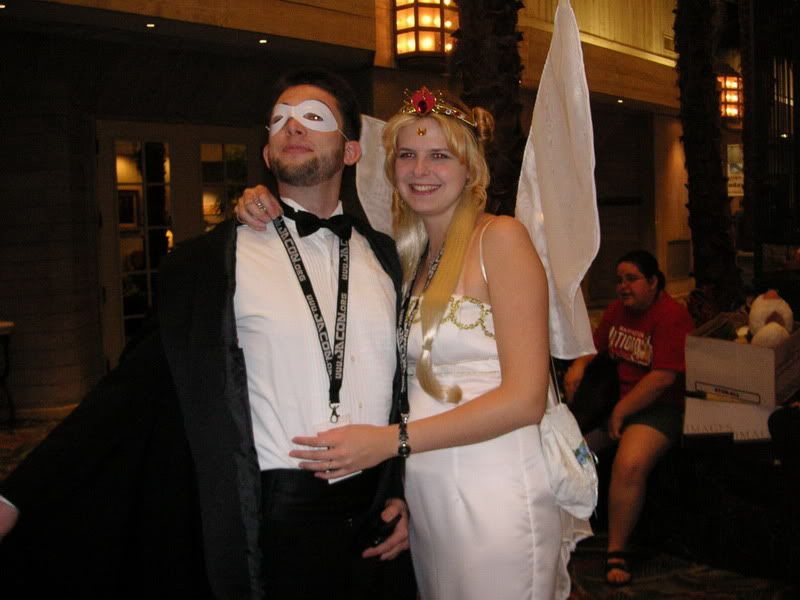 Another pic of me and Vanessa: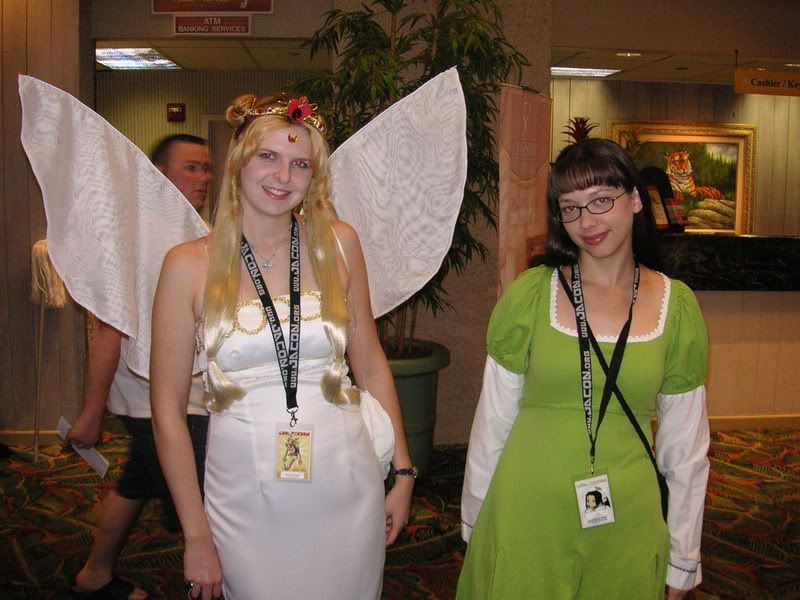 Saturday night was a masquerade ball. I like this pic of Christie, Janet, and Katrina.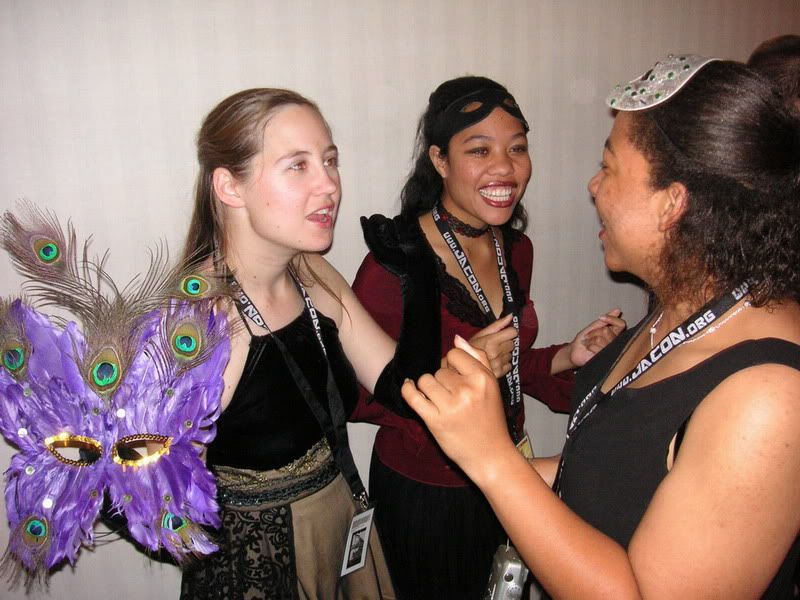 Here's one of me with my lovely evening gown, and my not-so-lovely farmer's tan. I think this was during the cha-cha shuffle.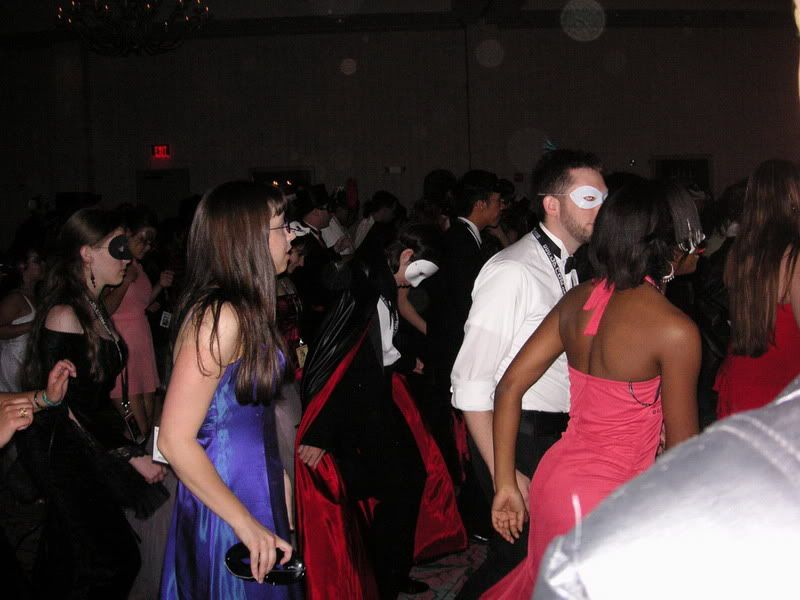 Vanessa wore her wedding dress for the dance, along with a white and gold mask she made. And Mark's tuxedo jacket, in this pic.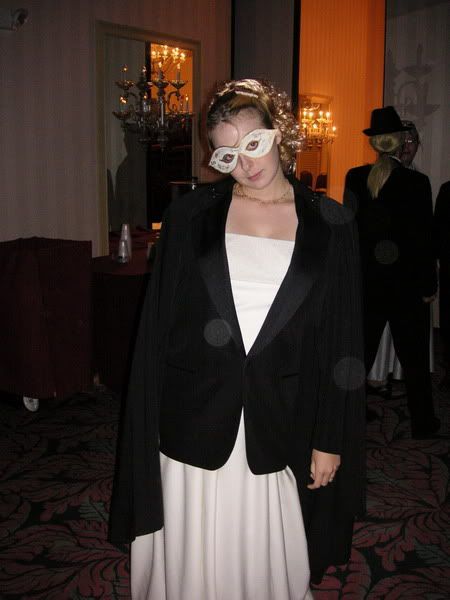 On Sunday, I dressed as Sango, and Anna dressed as Miroku. We had a little "date" at Subway (by which I mean we happened to sit next to each other, and everyone thought it was cute and Mark took pictures).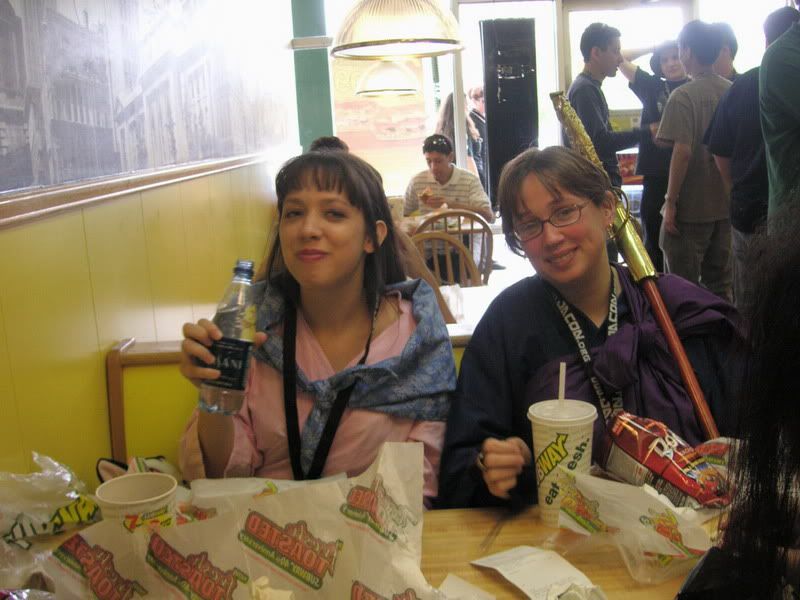 Miroku being pervy: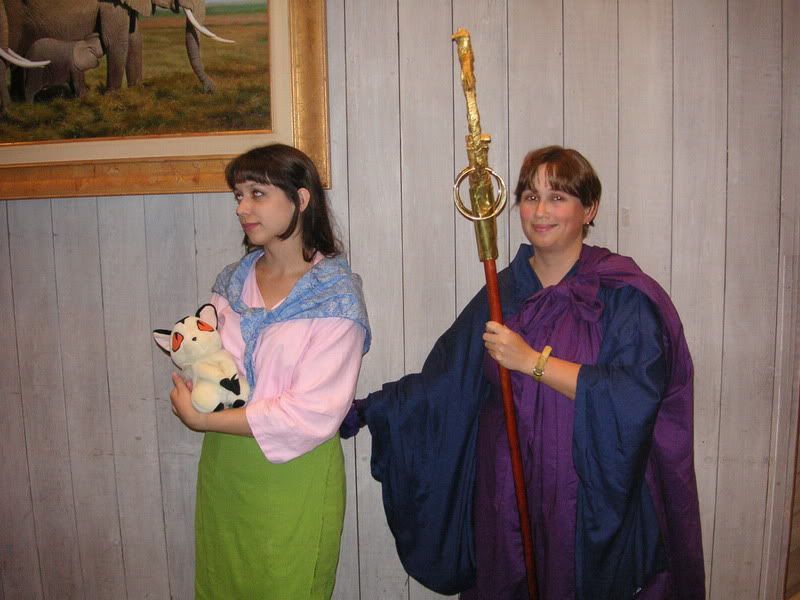 Sango getting angry: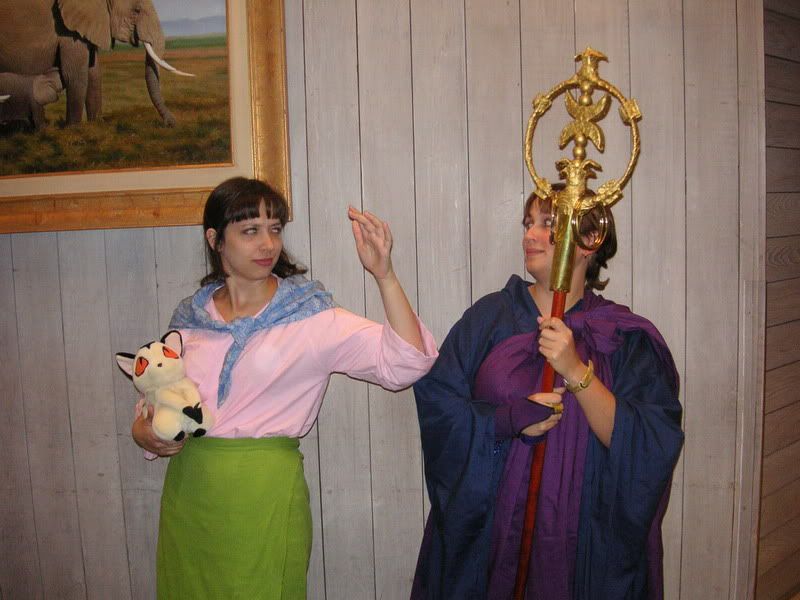 Here you can see Janet in the Kagura costume, complete with a Kyo backpack. Christie wore her kimono on Sunday, and Vanessa decided to dress comfortably.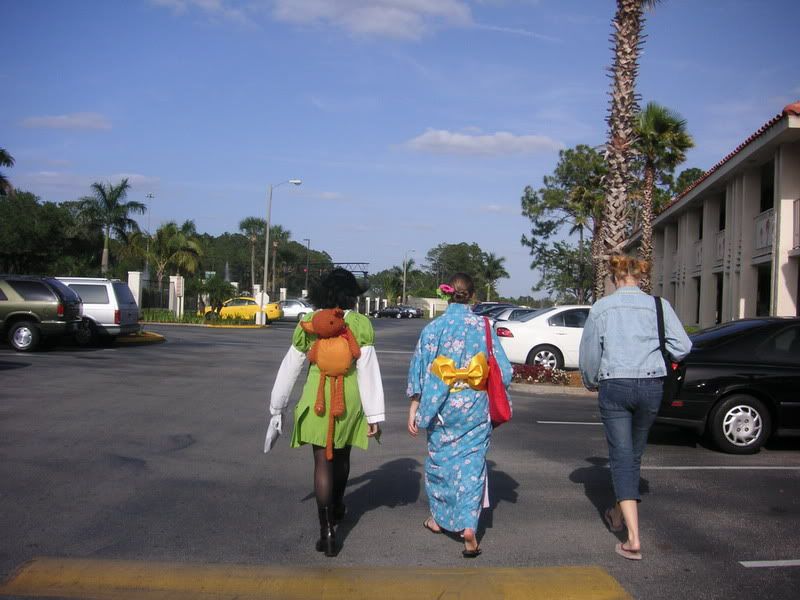 Once again, the highlight of the convention for me was the cosplay—being noticed and noticing others. And hanging out with everyone! We spent a lot of time on Sunday playing Rich Man, Poor Man, a game the characters in Fruits Basket play, with a set of Fruits Basket themed playing cards Christie found a good deal on in the dealer's room. That was so much fun.

I also was inspired by watching the fan video awards at the convention to attempt to learn how to make fanvids. I think I have some good ideas for them. I've got learning how on a (rather long) mental list of projects for this summer. If anyone has any tips on that, I'd love to hear them. I already have some software on my computer that I think I can do at least some of the essential fanvid-making tasks with, but I need to explore that a bit more.


And now I have to retire the Sango costume for a while. I can no longer pull off the hairdo. Yesterday I chopped my hair off and gave it to Locks of Love again. Yay! Short hair for summer! I have no pics of the new do yet, but for those of you who haven't seen me with short hair before, I'll say that I look a little like the Love Interest in Real Genius, except that my hair's a bit longer in the front: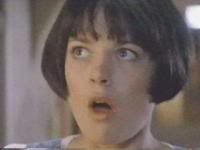 Well, this post was supposed to be drive by. Somehow, posts with pics always end up taking me a long time, mainly because photobucket is slow as a beast. There must be a faster way to do this. Any advice?

Joie