First, here's the video of the fan film we entered in the AFOscars:



Second, I present various pics from the con:


Katrina with Travis Willingham: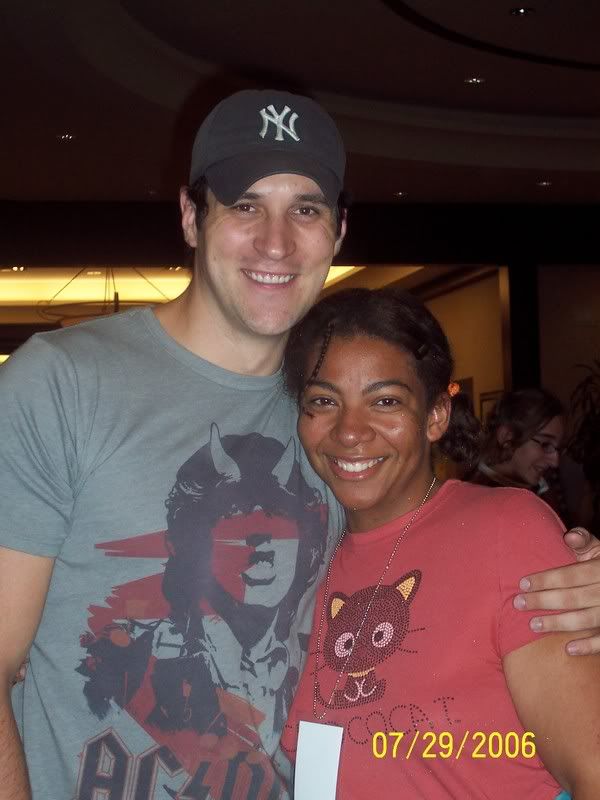 Anna with Vig Mignogna: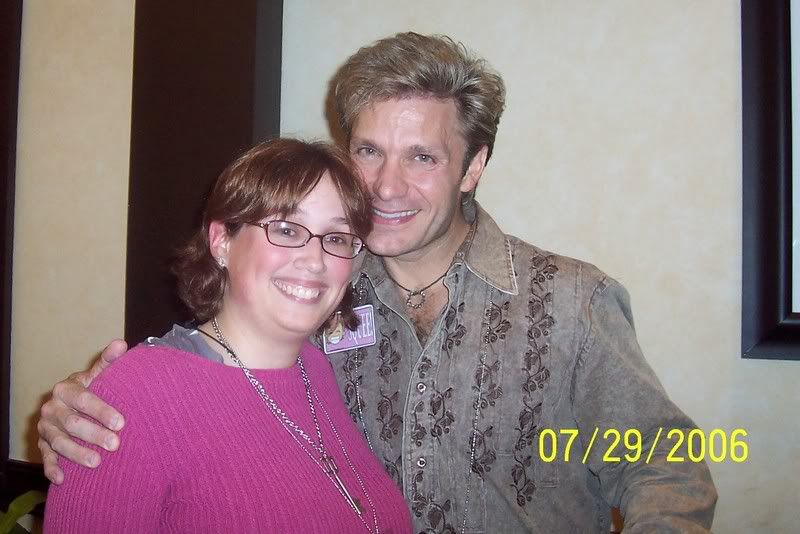 Relaxing at the hotel--Christie was finishing up the trim on her costume, and the rest of us were vegging out in front of A Walk to Remember (hence, the happy faces). Christie's husband, Spencer, and I are seated on the couch, and Janet/
kawaiinekochi is in the foreground: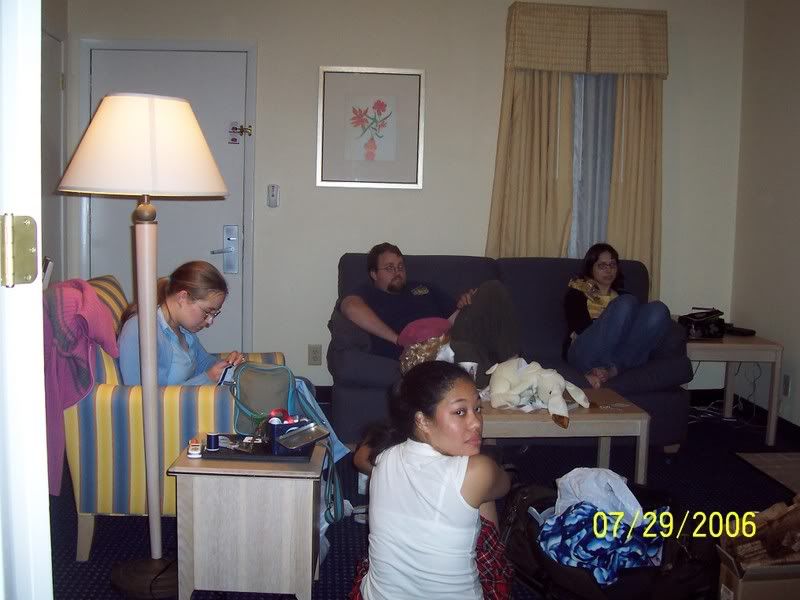 For this con, I wanted to try out crossplay (that is, dressing as a male character). I chose to do Hatsuharu ("Haru") Sohma. Here's what he's supposed to look like: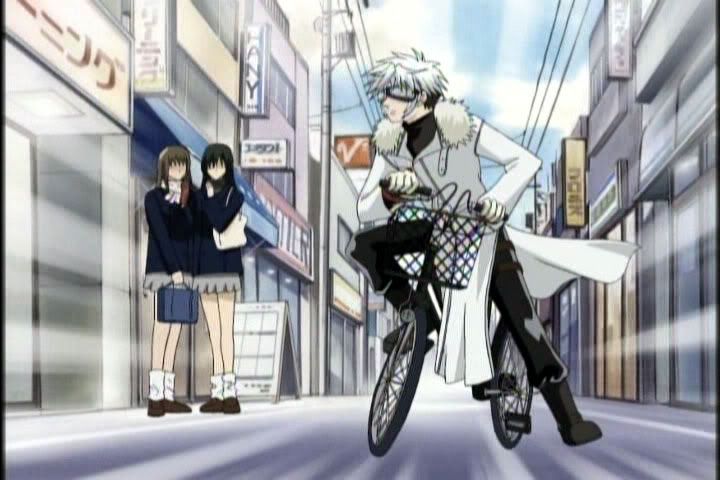 The most important part of the costume is the trenchcoat, and I have to say I think my attempt came together quite well. The wig and the motercycle chaps were more difficult. I used a long-haired black and white wig, and tried to cut and style it to look like his. Yeah...it didn't quite work. But it got the idea across, I think. For the chaps, I was lucky to find a pair of black vinyl pants at a thrift store, and I just cut and hemmed a hole in the pelvic area. This was probably the best I could have done, considering how I ran out of time in the end, so I'm glad I made that find. However, the pants were old and worn to begin with, and after the alterations I made, and being worn all day Saturday, they were pretty much trashed. So. I would like to reprise this costume next year, and I'm thinking I need two things: a new wig, and new chaps. I already found the wig I want to use. This time I'm going to use a white wig that's almost the right cut and style, and try to either color the bottom section with Sharpie pen (Vanessa says for some types of wigs this works), or sew in wefts of black hair (more difficult, but might look nicer). For the chaps, I'm torn between taking advantage of the current sale at leatherup.com and just buying a pair (in which case, I couldn't enter this in any contests, but I doubt I'll do that anyway), or attempting to make a pair out of some higher-quality vinyl and a pattern I was planning to use before I came across those vinyl pants in the thrift store. Decisions, decisions.

Anyway, on to the pictures…

The first three pics are from a photoshoot done against a white backdrop for the CosplayLab.com photoshoot. I think they look very sharp. BTW, I now have CosplayLab profile, which you can view here.

With Janet (
kawaiinekochi) as Rin Sohma: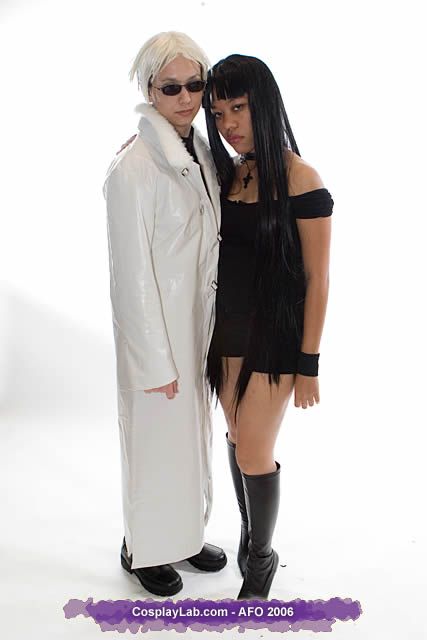 With Anna as Kisa Sohma: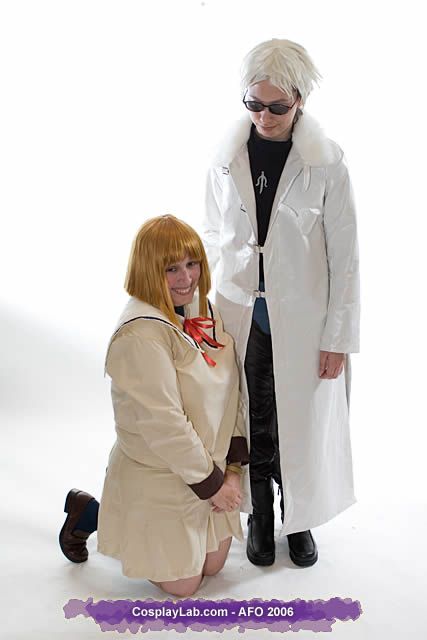 With Katrina as Yuki Sohma: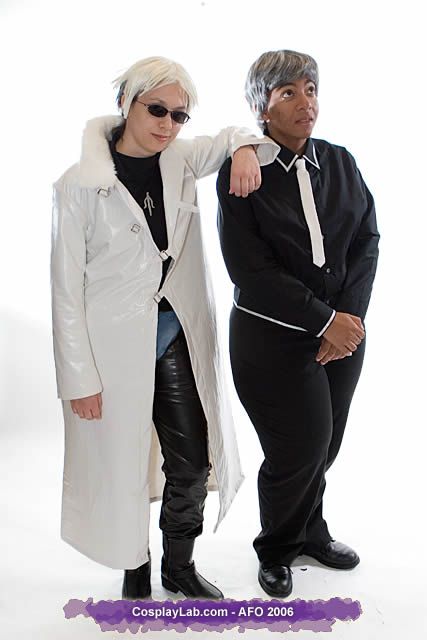 My brother dressed as Kyo Sohma; we posed several pics as martial arts otaku: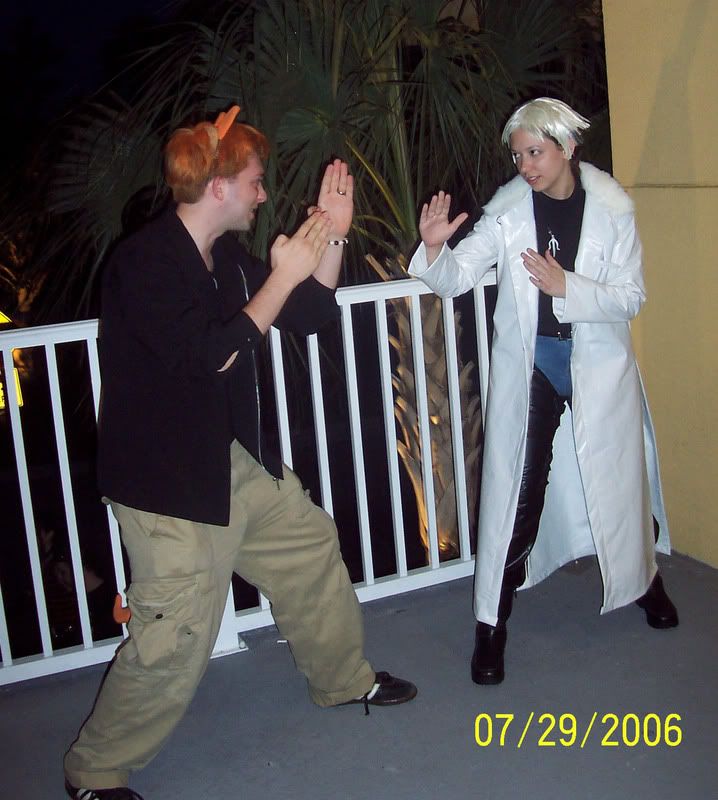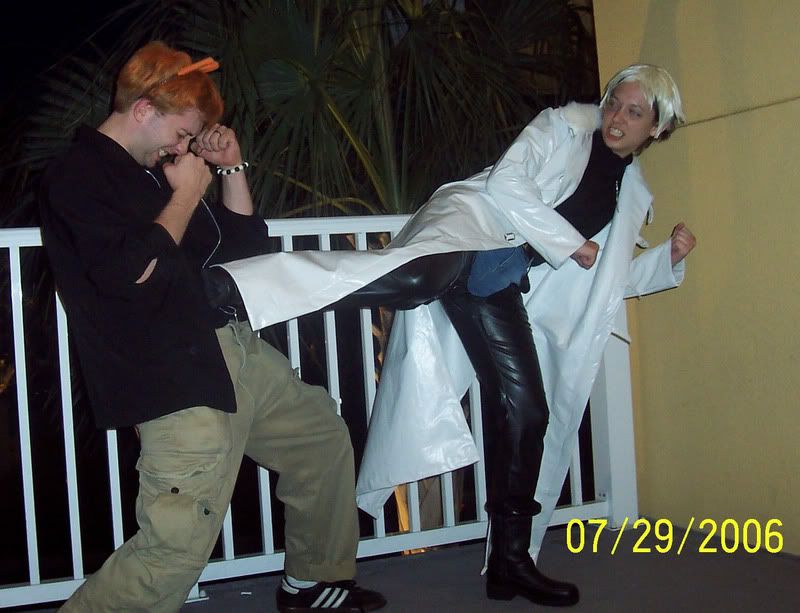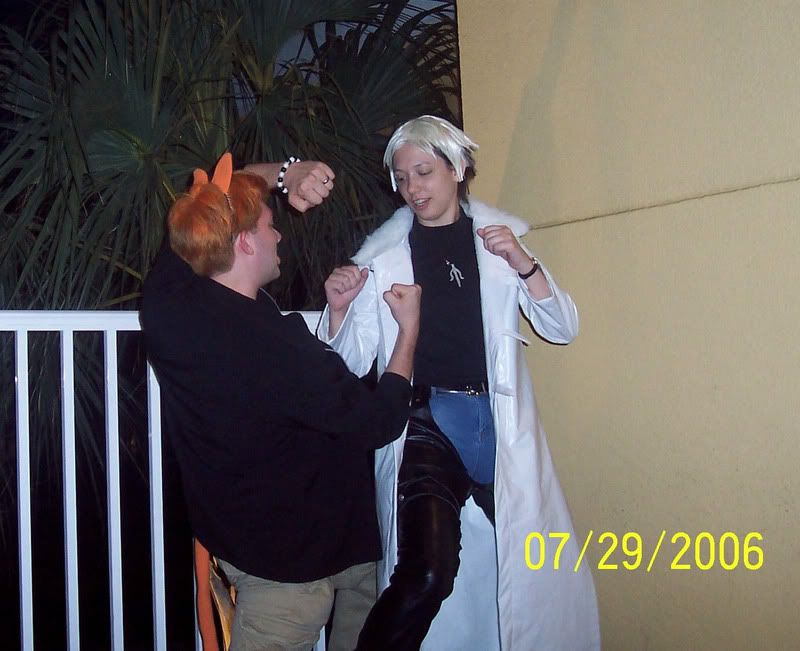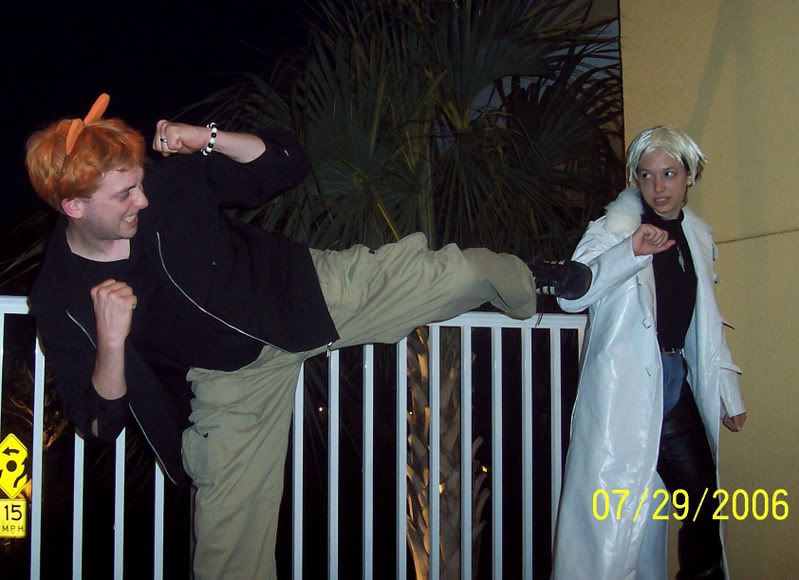 Kyo really needs to learn to keep his guard up: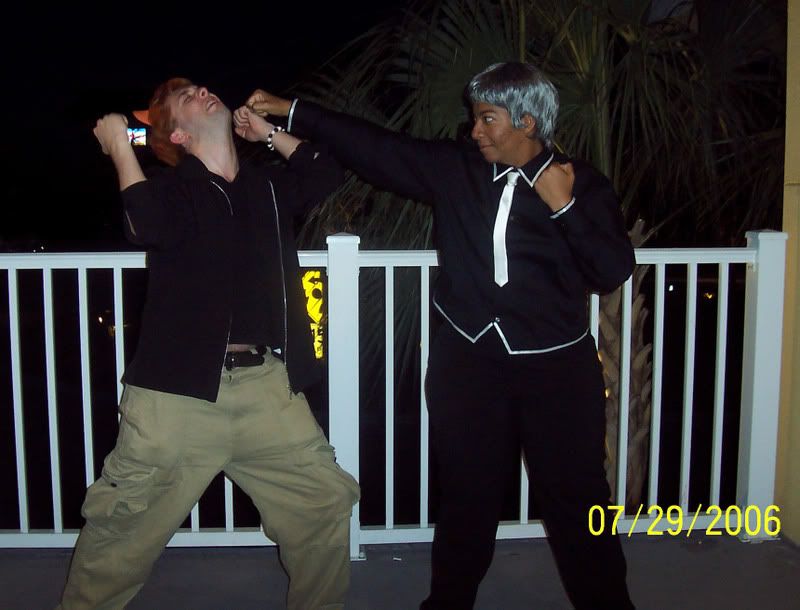 Yuki is not amused: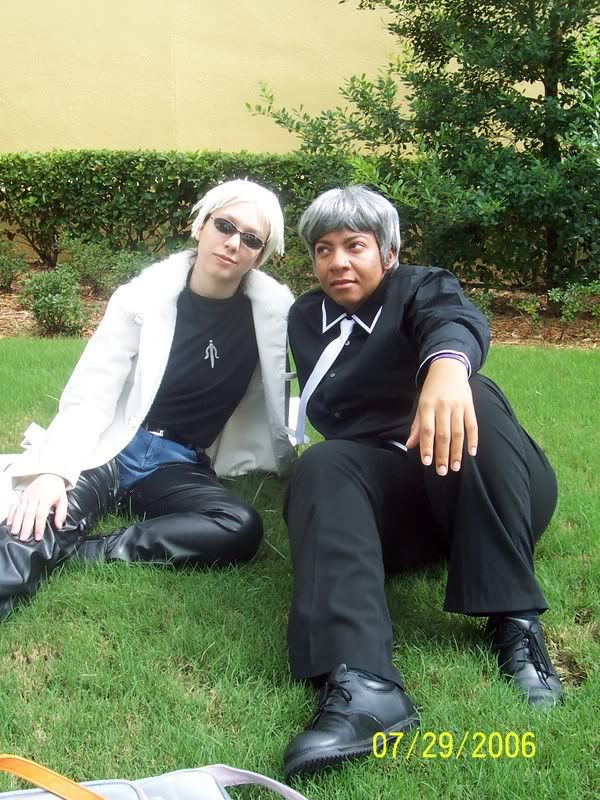 The best thing about being Haru is having a really hot girlfriend. ;)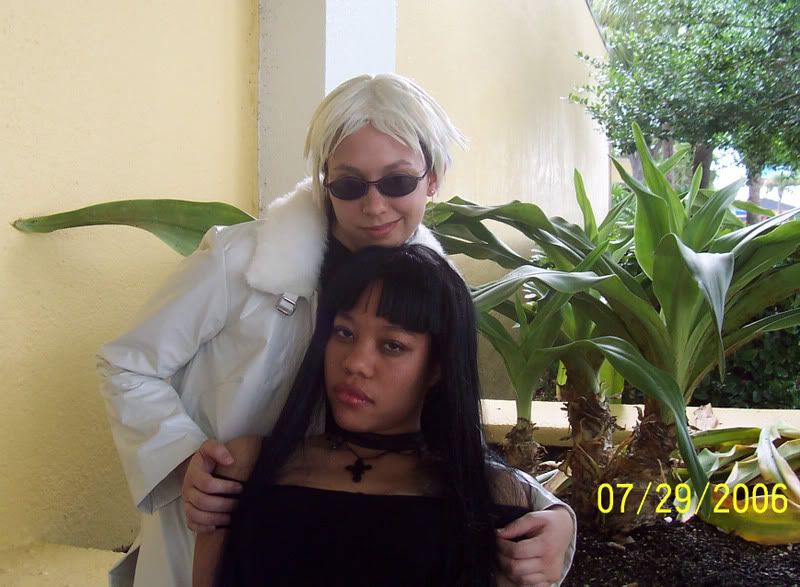 Haru comforts Kisa: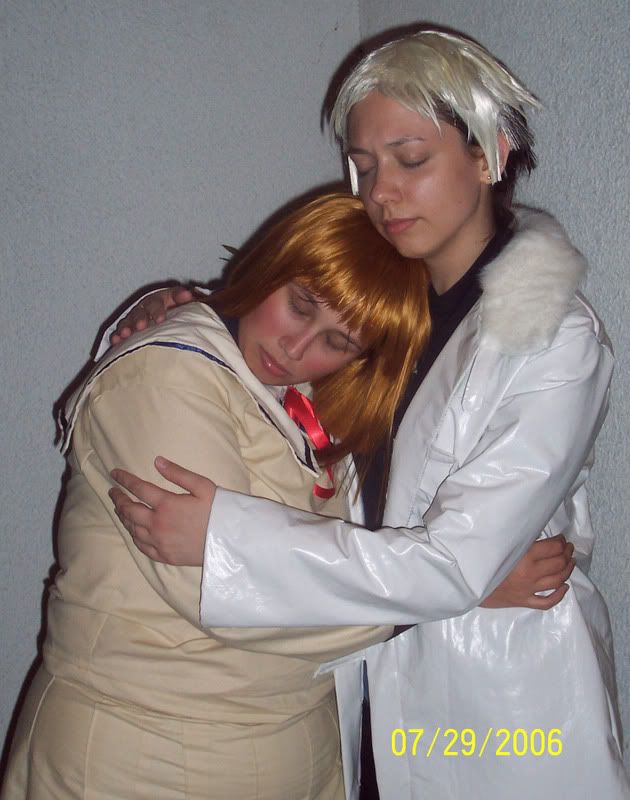 Christie as Momiji Sohma with Usa!Momiji: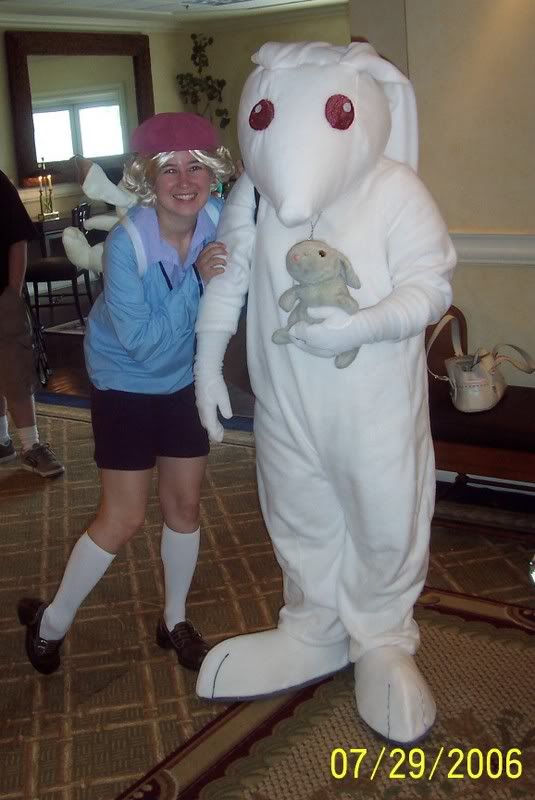 With Shigure cosplayer: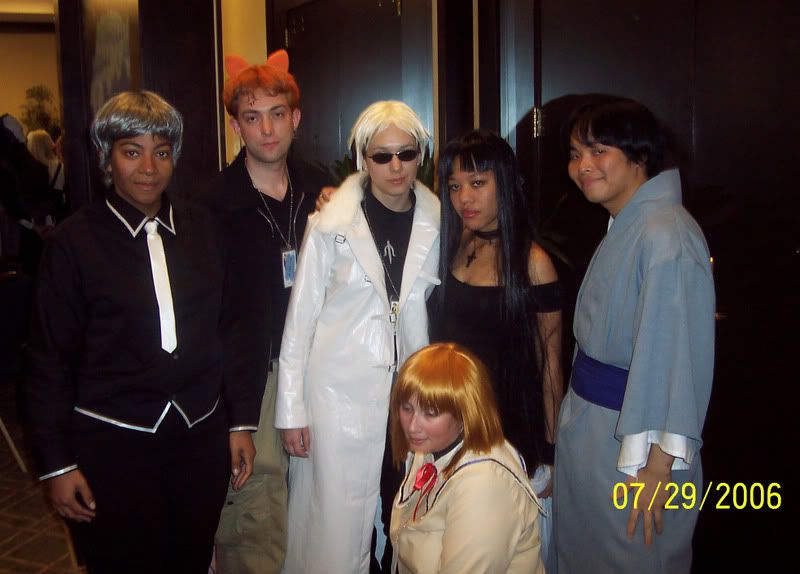 With Ayame cosplayer: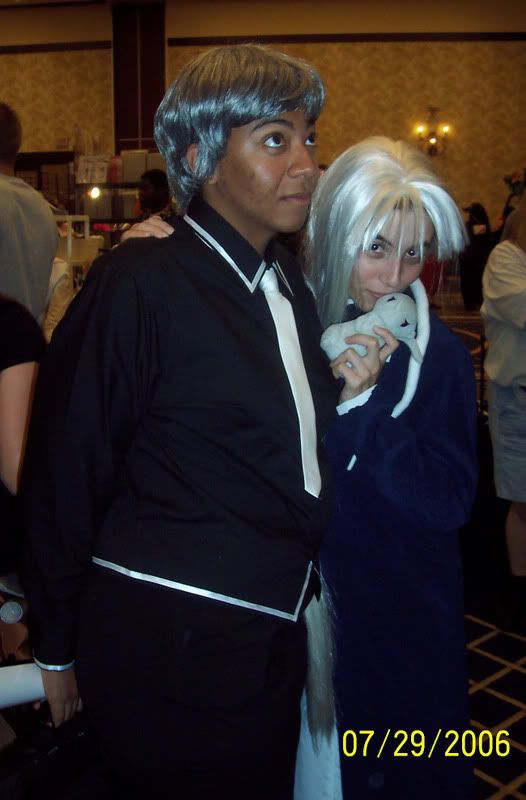 Some Full Moon O Sagashite cosplayers; Mark and I will be cosplaying these same characters at MegaCon in February (Vanessa is going to be Full Moon, and Janet and Christie are planning to do characters from the series, too):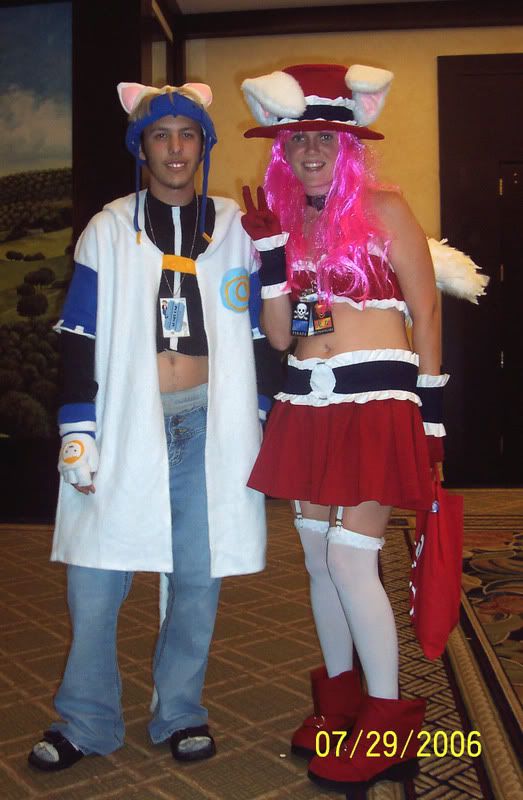 Showing off our AFOscars (L to R - Janet, Christie, me, Spencer, Deb, and Mike):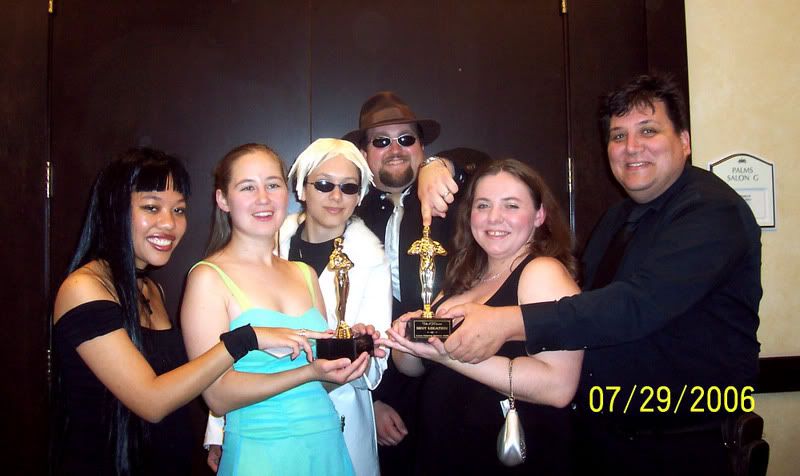 Deb and Mike are co-workers of Christie's at Full Sail, who came just for the AFOscars because of their work on our entry. (That is to say, they did most of the work on "our" entry.)

We switched things up a bit on Sunday, and I got to wear the Momiji costume:

Accomplices?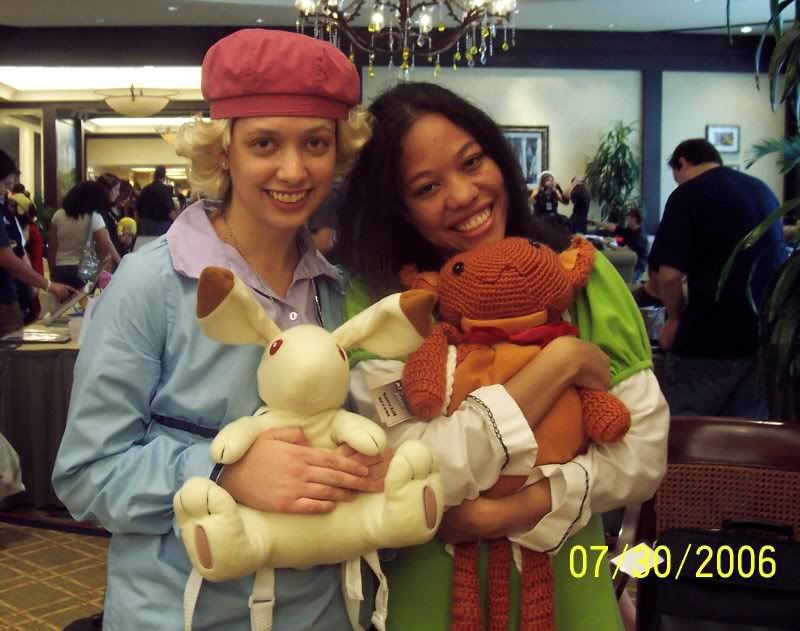 Momiji/Kagura is my fanon ship, so Janet had to tolerate me snuggling up to her two days in a row: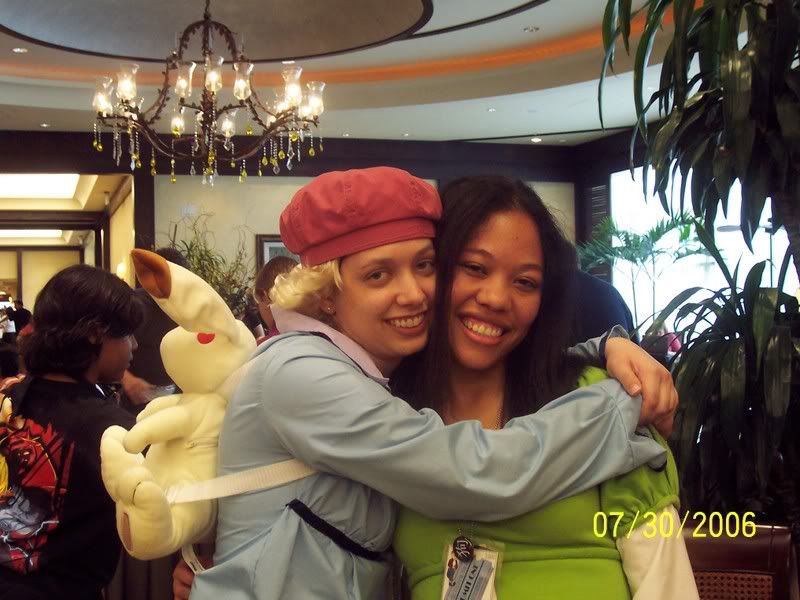 Katrina was a character from Revolutionary Girl Utena on Sunday; she's posed here with a coplayer we saw in the contest: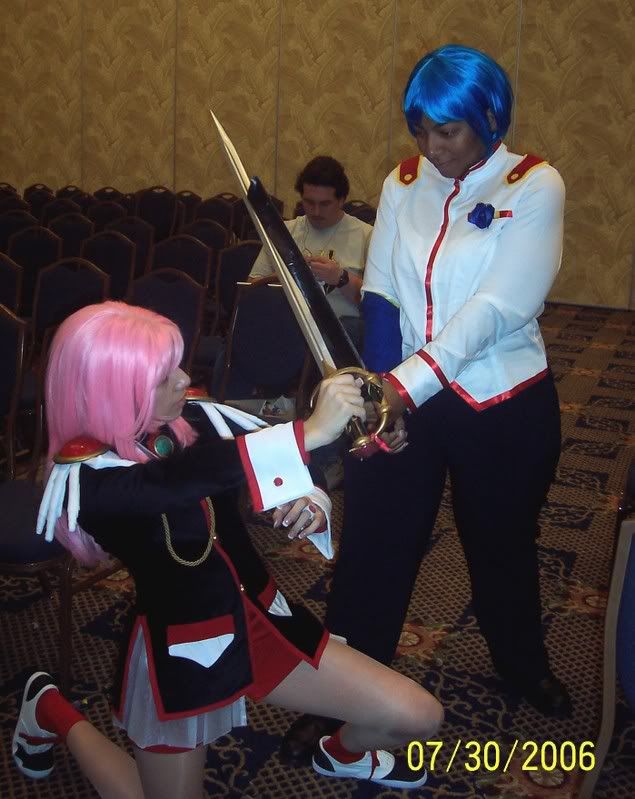 Vanessa as the regal mother-to-be: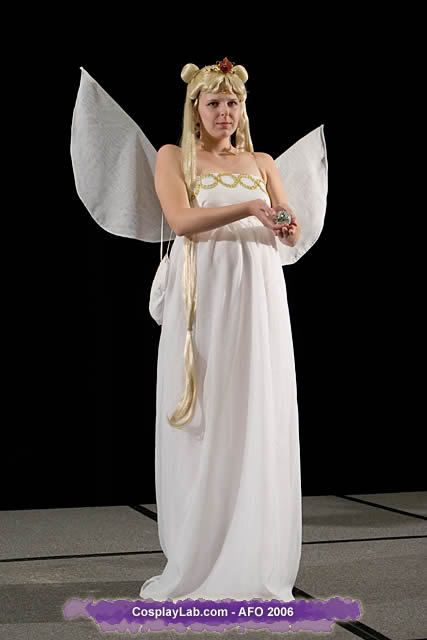 We saw a very flexible Miroku cosplayer: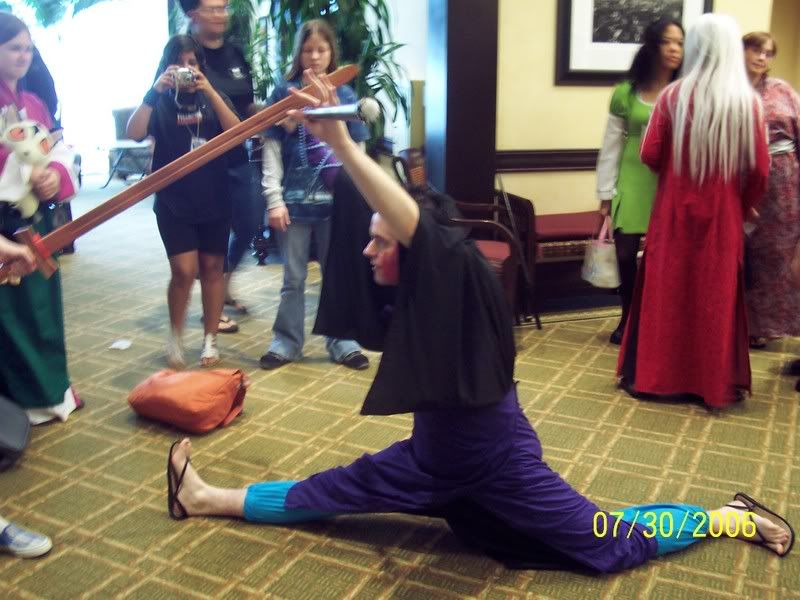 Run for it, Kyo!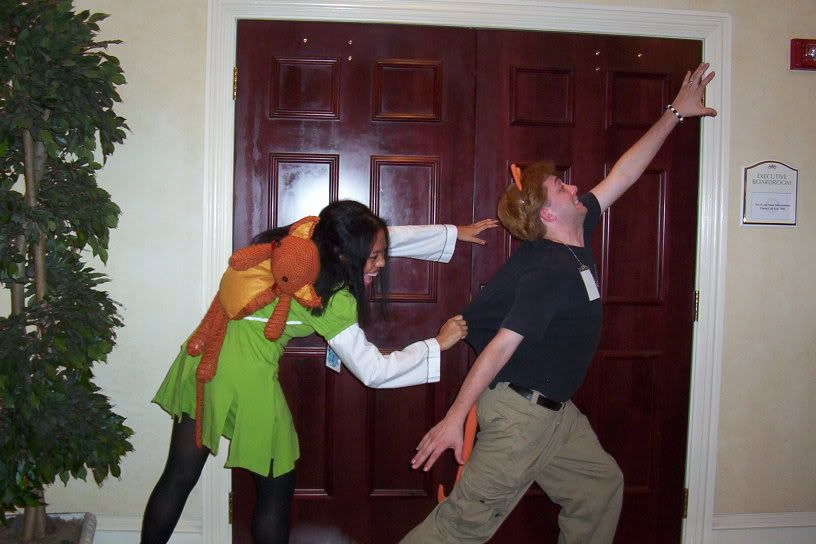 Waaah!!! Kyo's picking on me!





Man, I need to go to bed. Why, why, WHY do picture posts always take so long?!

Joie